Senior Care
As pets reach their golden years, they often require changes in nutrition, exercise and health care to continue to live long, healthy and comfortable lives. Preventative care plays an enormous role in wellness and early disease detection. At Shoreline Animal Hospital we assess each senior pet as an individual and make recommendations based on a physical exam, thorough history, lifestyle, and laboratory results.
Dogs and cats age faster than humans, and therefore we focus on age related issues sooner than most owners would think. For large or giant breed dogs this would be around 5-6 years of age, and for small breed dogs and cats at 7-8 years. Like older humans, geriatric pets can develop conditions such as arthritis, dental disease, obesity, diabetes, kidney failure, thyroid issues, liver disease, heart disease, muscle wasting, senility and cancer. Many of these conditions are difficult for owners to detect, but can be successfully managed once a diagnosis is made. Yearly lab work and urinalysis are recommended for all senior pets, as well as laboratory monitoring specific for the individual's conditions and medications. As the aging process continues, examinations every 6 months can be beneficial. Our referral network of veterinary specialists can provide advanced care for more serious conditions. Together we will put together an individualized health care plan for your pet that will address your pet's individual needs and lifestyle.
As pets age we often recommend changes to their diet, environment, exercise, medications and vaccinations. We may recommend a supplement to help with mobility issues, senility or hair coat. Prescription diets are available specifically designed for pets with kidney disease, senility, seizures, or urinary tract disease. Older pets that stay at home and have been well vaccinated may not need the same vaccines they did earlier in life. We evaluate the need for each vaccine, lab test or medication based on your geriatric pet's lifestyle and medical conditions.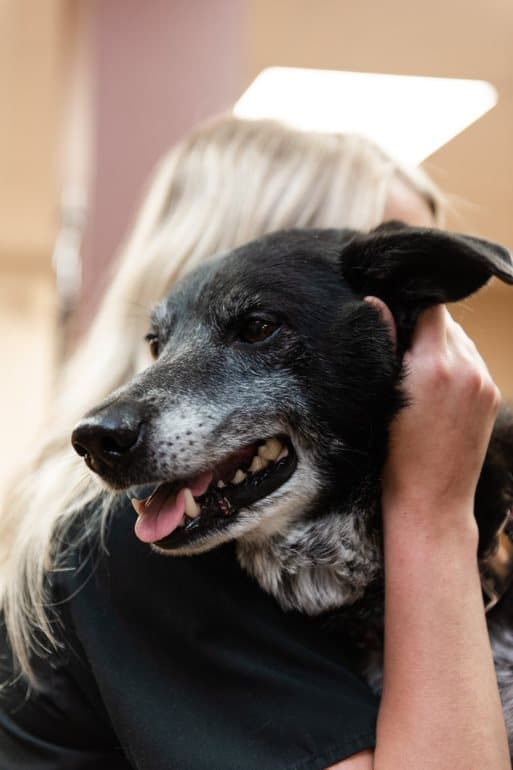 Geriatric pets often exhibit changes in behavior that can be signs of illness. If you note any of the following, we recommend that you don't wait to schedule a visit.
– increased thirst
– increased frequency or volume of urine, leaking of urine, blood in urine or straining to urinate
– decreased appetite or voracious appetite
– irritability, aggression or increased anxiety
– changes in sleep habits
– house soiling
– change in weight
– difficulty rising, jumping or using stairs, limping, weakness
– confusion, wandering, increased vocalization
– new lumps and bumps especially if growing rapidly or changing color
– coughing, labored breathing
– distended abdomen
Please don't hesitate to call and speak with one of our dedicated team members to ask questions and schedule an examination for your aging pet today!