Laboratory and Radiology
Shoreline Animal Hospital offers an in house Idexx laboratory that can provide a full chemistry blood panel and CBC (complete blood count) in less than an hour. Rapid results are important in sick patients to help with a fast diagnosis and appropriate treatment plan. Our in house lab also offers complete urinalysis, Feline Leukemia/Feline AIDS testing, tick- borne disease screening, heartworm tests and fecal flotation tests. We also use a variety of outside veterinary labs for more routine lab work that is not urgent or tests for specific diseases such as thyroid testing, fecal centrifugation, cultures and biopsies. Many of our diagnostic samples are transported to these labs every evening, and in many cases we have results available by the next day. Our veterinary technicians are skilled with venipuncture and gentle handling to help keep pets calm while obtaining blood samples. They love to spoil your pets with treats to make the blood draw a happy experience!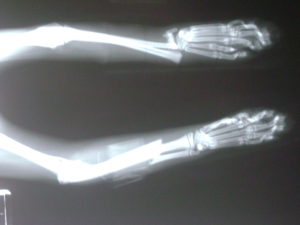 Our on-site radiology department offers digital x-rays that provides quick imaging to examine internal and orthopedic issues. Digital radiology is fast and environmentally friendly requiring no chemicals or waste. Digital radiographs are also easy to forward to specialists for interpretation/consultation and to referral and emergency hospitals for continuity of care. We can provide your pet with sedation if needed in order to obtain good quality radiographs in the least stressful way.